Your home is one of the most expensive investments you'll make in your life. Therefore, it is critical to ensure that you take good care of it. You may have plenty of items on your annual home maintenance list. But something as simple as pressure washing commercial buildings should be high on your priority list. Why is keeping the exterior of your home clean important? For one, keeping your home's exterior clean can alert you to any problems that may be brewing. There could be rust, wood rot, foundation cracks, and numerous other problems that only cleaning can reveal. Another reason you should keep your home's exterior clean is because it will help you know when you need a paint job. Or it could make you aware that you need to replace shutters or other parts of your home. Here are seven other secret benefits of commercial pressure washing that you probably weren't aware of. 
1. Pressure Washing and Power Washing Aren't the Same
While this may not be a benefit, it is something you should know when you're looking to hire someone. Pressure washing and power washing or not the same thing, and they aren't interchangeable words. Power washing uses equipment that sprays out water at a high PSI that can be destructive to many home surfaces. On the other hand, pressure washing uses a much lower PSI of approximately 500. This is about as powerful as a typical garden hose.
Why is it important to make this distinction? Because when you are looking for someone to clean the exterior surfaces of your home, you want to hire someone that will use equipment that will gently remove dirt, cobwebs, oil, and other grime. A high-powered power washer can splinter the wood surfaces, crack your roofing shingles, and put small holes in your siding.  It could also knock off small chips of paint. If the paint on your home has lead in it, this could quickly become a costly environmental issue that you will be responsible for cleaning.  This is why it is critical that you hire a pressure-washing company that doesn't use abrasive equipment or detergents.
2. Commercial Pressure Washers Use a Lower PSI Than Power Washers
If you take your time and higher the right experts to clean the exterior surfaces of your home, they will know to use a pressure washer with a lower PSI. Power washers may have a PSI of upwards of 3000. While this may help get a job done fast, it can leave a lot of destruction on your property.  
When it comes to pressure washing your home, the company that takes its time to clean your surfaces is preferable to the one that works quickly.  Although pressure washing may take much longer than power washing, it is much safer.  try to seek out pressure washing companies that use a soft wash technique to clean away massive amounts of dirt and grime.
3. Professionally Pressure Washing Commercial Buildings Is Safer Than Amateur Cleaning
Have you been bombarded recently with power washing companies knocking on your and your neighbors' doors trying to drum up business?  Even if your house could use a good cleaning, you should be leery about using door-to-door sales tactics when it relates to cleaning your home.  
As with any homemade sentence tasks, you should research who you plan to do business with. This is no exception when it comes to cleaning the exterior of your home since these weekend warriors may not have the credentials to clean your home. Not only could they cause significant damage, but if they aren't properly insured, you could be financially responsible for their injuries. 
Not only should you seek out professional commercial pressure washing companies in your local neighborhood, but it is also a good idea to refrain from trying to pressure wash your home yourself. Pressure washing can be a dangerous task because it involves a lot of water and slippery detergents. If you're unsure how to pressure wash the exterior surfaces of your home properly, you could slip, fall, and injure yourself. Ideally, it is best to leave this task to professionals.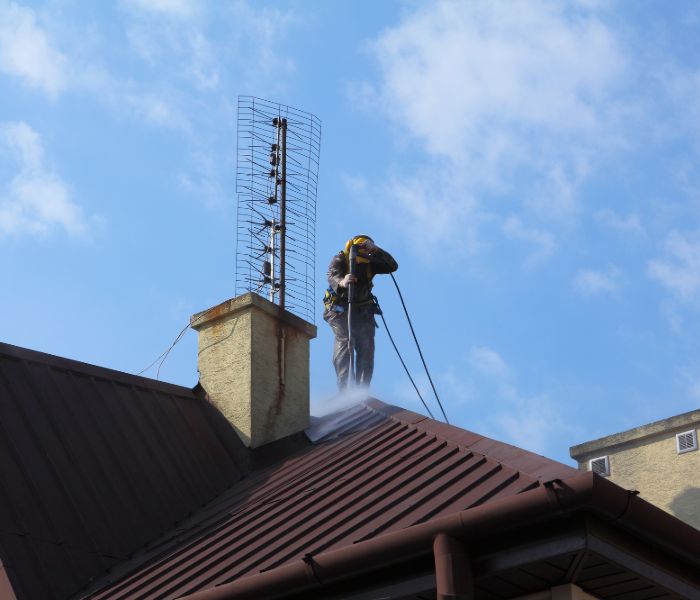 4. Getting Commercial Pressure Washing Improves Your Curb Appeal
Does your house need a good cleaning, but you keep putting it off, believing it's not that important? You shouldn't view commercial pressure washing as something that is an added bonus for your home. It is just as important as other annual maintenance tasks. This is primarily because it improves your curb appeal.
Maintaining quality curb appeal shouldn't only be done for aesthetic reasons. You should strive to keep your curb appeal high to maintain a high value for your home. Your low-quality curb appeal affects not only your home but even your neighbors' homes. And if you reside in an HOA, having a dirty exterior could result in fines or other violations. So, make sure that you make keeping your home's curb appeal a high priority on your list. 
5. Pressure Washing Can Help Remove Microorganisms From Exterior Surfaces
Have you noticed fuzzy green vegetation springing up on your roof or some other wooded part of your property? Or have you noticed huge globs of black stains growing on the surface of your asphalt roof? You may have ignored these things as minor issues. However, left unchecked, the seemingly innocent things could quickly turn into destructive ones.
That fuzzy green stuff growing on the wood surfaces of your home is moss. Although this form of vegetation is relatively harmless, it could destroy the wood surfaces of your home.  Your roof may start leaking due to allowing this plant to take root. Or huge parts of your wood deck may be destroyed by this seemingly innocent vegetation. 
That black blob that keeps getting larger on your roof is also not as innocent as it seems. While it may look like a big chunk of dirt, this may be black algae forming on your roof. This is a living organism that feeds on granules on the shingles of your roof. This can cause substantial damage, which may result in premature roof replacement. 
Pressure washing your roof or other exterior surfaces can eliminate these annoying microorganisms, keeping your house clean and free from damage.
6. Getting Commercial Pressure Washing Can Keep Pests at Bay
Another secret about commercial pressure washing is that it can keep pests away from your home. A few pests that like to set up shop around the exterior surfaces of your home are spiders and various types of bees. These pests can get into your home and infest it or even injure you, your guests, or small children. Keeping your exteriors pressure washed will keep such pests away. No, pressure washing isn't a substitute for pest control services. But they will keep these pests from building homes around your property and making it look bad. Pests love clutter and dirt, and the more you have around the exterior of your home, the more likely they will set up colonies that can infest your home. 
7. Keeping Your Home's Exterior Clean Encourages Better Health
Another surprising benefit of pressure washing your home at least once a year is that it may encourage better health. Dirt, cobwebs, and other grime that build up around the exterior surfaces of your home may get into your home. If your windows or doors are open, dirt and allergens can enter your home.
Such dirt, pollen, and other buildups on the exterior surface of your home can make asthma or allergies worse than normal. A pressure washing company can gently remove such dirt and grime to help improve the air quality surrounding your home. 
Pressure washing can also clean away disease-carrying buildup that may be on your property. For instance, mold and bird poop can be festering with disease. These items could spread viruses throughout your home if left on your property. A commercial pressure washing company can eliminate such items, making it much safer and sanitary. 
There you have it! Seven secrets about commercial pressure washing you need to know to keep you well-informed as a homeowner. Is it time for you to get commercial pressure washing for your home? If so, it is critical for you to hire one of the best in your local area. A pressure washing company that takes pride in its work will use quality products. It will also use tools to keep your home safe while gently removing years of dirt and grime. One such pressure washing company is Orlando Pressure Washing Experts. Using our soft-wash system, we gently remove dirt, oil, and other grime using a low PSI pressure washing system and a gentle, eco-friendly detergent. To learn more about our pressure washing company and the surfaces we clean, call (321) 450-8090 to schedule a consultation and get a FREE quote.